We're working with easyfundraising to help British Gymnastics clubs raise extra funds.
easyfundraising is a platform that turns online shopping into donations for good causes including sports clubs.
easyfundraising works with over 6,000 online retailers including Amazon, John Lewis, eBay, Decathlon, Wickes, Sports Direct, Sainsbury's, and many more, who will all donate to your club to say thank you for shopping with them. This means that every online purchase can mean more – more equipment, more support, and more opportunities for your club.
As part of our partnership with easyfundraising, we will benefit from a small commission when clubs we refer sign up.
Any money that is raised from commission through easyfundraising will be reinvested back into our Foundation's programmes and initiatives including the Hardship Grants Programme, providing financial assistance to British Gymnastics members in need, and Love to Move, a seated gymnastics programme that helps older people living with Alzheimer's.
Sports clubs and teams have taken a share of over £4.4 million since easyfundraising first began, and other good causes have taken a share of £35 million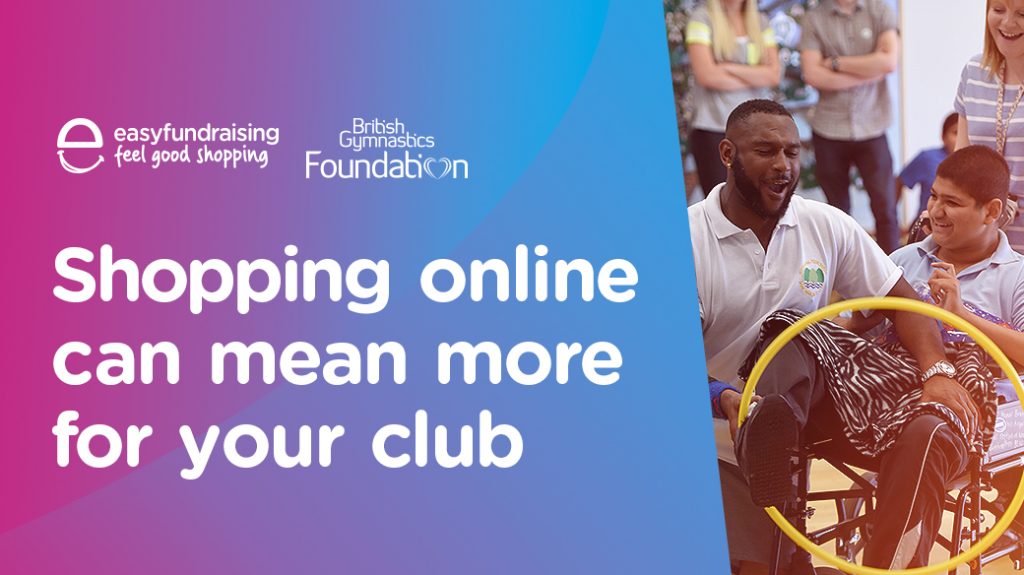 Your club could win £250!
Thanks to easyfundraising, they're giving clubs the chance to win a £250 donation this Christmas. To be in with a chance of winning, clubs just need to register via the button below. If your club is already raising funds with easyfundraising, simply raise a donation to be included.
Three steps for club managers to start earning:
Here's three steps to help you get going.
Register your club with easyfundraising – this only takes a couple of minutes.
Book a free one-to-one call with a gymnastics club coach for a quick demo of the easyfundraising site.
Share your page with everyone associated with your club, so they can start supporting you every time they shop online and earn a £5 bonus when they reach their first £5 donation milestone.
Register your club by 11.59pm on Wednesday 1st December 2021, and one club will be in with a chance of winning a £250 donation. For more information including FAQs and terms and conditions, click here.